Divemaster Training: The TL Sea Diving Difference
If you like people, have a passion for scuba diving and want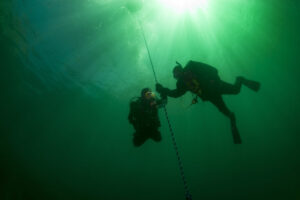 an extraordinary life – become a PADI Divemaster: the starting point for all PADI Professionals. Becoming a Divemaster allows you to share your love of the aquatic world with others while doing what you enjoy – being in, around and under water. You are rewarded with a job that lets you share incredible underwater adventures with others – transforming their lives for the better and enriching yours. Plus you have the opportunity to earn incoming by leading dives and conducting certain PADI programs* and Specialties independently*.
Divemaster is the foundation for Professional Training. The program is intense, but a fun experience with a rewarding pay-off: opportunities for income by leading divers or teaching certain PADI courses* as a PADI Divemaster. It is also the first step toward becoming a PADI Instructor. TL Sea Diving focuses on real-life type interaction between the Divemaster candidates and the Instructor who is your mentor and facilitates the activities.
You will get the opportunity to expand your diving knowledge, to polish your scuba skills and to become comfortable with diving leadership skills working with divers both as an instructional assistant and experience teaching PADI courses that Divemasters may conduct.
Faster is not better with the Divemaster Program! While some dive centers advertise completing Divemaster in a couple of weeks, TL Sea Diving's staff will help you take advantage of format of PADI's Divemaster Program which uses real-world experience and internship to allow you to develop your personal skills to professional level. We take as long as you need to become comfortable with your skills. We discuss your progress with you as we work together toward your goals.
Click here for a handy, downloadable guide you can use to map your own personal path to becoming a PADI Professional. Below you can find out more about each of the PADI Professional Level Programs. Give us a call at TL Sea Diving to schedule some time to discuss your goals.
If you have any questions about the PADI Divemaster Programs or any PADI Professional Programs, contact TL Sea Diving – the area's premier PADI Five Star Instructor Development Facility. We will discuss with you the benefits of achieving your goals with us!
* Certified and Insured PADI Divemasters may conduct certain PADI Programs, such as Discover Local Diving and may qualify to teach Discover Scuba Diving and certain PADI Standard Specialties after meeting specific requirements. If you have questions, please contact us and we can give you answers!
About TL Sea Diving
TL Sea Diving is one of Seattle's most experienced PADI 5 Star IDC Instructor Development Centers. We have been a PADI Five Star Instructor Development Center, training PADI Professionals for more than 28 years!
Our Instructor Staff
Our staff of PADI certified instructors will mentor you toward your professional diving goals. Our Instructor Staff has 40 years of combined experience teaching PADI Professional Programs and regularly participates in PADI Continuing Education to provide you with the best resource for your training.
Get Started!
You can start today by contacting TL Sea Diving and scheduling a meeting in-person with our Course Director. Bring your questions! We will let you know what you will need (books and materials), talk with you about your experience and show you the path forward, including detailing all costs involved.