Instructor Training: The TLSea Difference
If you like people, have a passion for scuba diving and want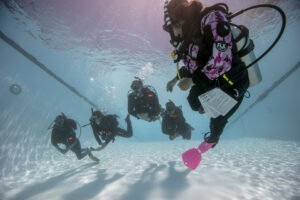 an extraordinary life – become a PADI Instructor. Teaching scuba diving allows you to share your love of the aquatic world with others while doing what you enjoy – being in, around and under water. PADI Open Water Scuba Instructors and PADI Assistant Instructors are the most sought-after dive professionals around the world because they've completed the program that sets the standard for training dive professionals. You earn a PADI Instructor rating through hard work and commitment, but you're rewarded with a job that lets you share incredible underwater adventures with others – transforming their lives for the better and enriching yours.
TLSea focuses on fewer lectures and more real-life type interaction between the candidates with the Course Director facilitating the activities. TLSea has always used workshop training because they give the instructor candidates the opportunity to try various approaches and techniques, learn new approaches from their fellow candidates and figure out what works best for them in the real world, guided by your Course Director. This makes you more confident as you pass the IE and start teaching real students. Workshops that other facilities "add on" are techniques we have used in our programs for years.
During the IDC, TLSea uses a hybrid-style approach with on-line meeting technology integrated with in-person sessions, pool sessions and open water sessions. You will meet personally with your Course Director and the staff throughout the program (or anytime you wish) to ask questions and discuss your IDC.
We help you "think like an instructor". The IDC is not "one size fits all" at TLSea.
Click here for a handy, downloadable guide you can use to map your own personal path to becoming a PADI Professional. Below you can find out more about each of the PADI Professional Level Programs. Give us a call at TLSea to schedule some time to discuss your goals.
Please contact us with any questions you have about the PADI Programs or about TLSea's PADI Five Star Instructor Development Course.
About TLSea
TLSea Diving is one of Seattle's most experienced PADI 5 Star IDC Instructor Development Centers. We have been a PADI Five Star Instructor Development Center, training PADI Professionals, for more than 28 years!
Our Course Director & Staff
Our Course Director has been with TLSea since the beginning and has been teaching PADI Divers for 34 years and PADI Instructors for 27 years with a 99%+ success rate at the Instructor Examinations (IE). He is also certified to teach 20 specialty instructor courses.
Our IDC Staff Instructors have 17 years of combined experience helping divers reach their goals as PADI Instructors.
Get Started!
You can start today by contacting TLSea and scheduling a meeting in-person with our Course Director. Bring your questions! We will let you know what you will need (books and stuff), talk with you about your experience and show you the path forward, including detailing all costs involved.