Specialty Instructor Training: The TL Sea Diving Difference
If you are teaching Open Water and Advanced Diver courses all of the time, you could get "burned out instructor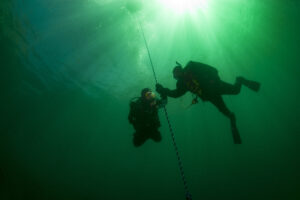 syndrome" quite quickly. Why not have more fun, less risk and more profitability by teaching PADI Specialties!
That's what teaching specialty diver courses is all about. The best way to learn how to make your specialty diver courses really special is to take a specialty instructor course from your TL Sea Diving Course Director. Specialty instructor courses provide teaching tips and hands-on experience that you can implement right away. With 25 standard PADI Specialty Diver courses, and numerous distinctive specialties, you have quite a selection from which to choose. Your course will be personalized to the specialty instructor courses that best fit your needs.
All PADI Instructors will benefit from taking specialty instructor training courses, especially those who are ready to step up to the Master Scuba Diver™ Trainer (MSDT) rating, which requires at least five PADI Specialty Instructor certifications.
PADI Assistant Instructors, instructor candidates in training, and PADI Divemasters are eligible to enroll in certain specialty instructor courses. Some specialties have additional prerequisites and exit requirements – contact TL Sea Diving and schedule a face-to-face meeting with your Course Director to discuss your goals and how TL Sea Diving can help you achieve them!
We help you "think like a specialty instructor" with real world teaching experience during the program and help you market your courses for more profitability and for more and more active and excited diving customers!
Give TL Sea Diving a call to schedule some time to discuss your goals.
Contact us with any questions you have about the PADI Specialty Instructor Programs or about TL Sea Diving's PADI Five Star Instructor Development Course.
About TL Sea Diving
TL Sea Diving is one of Seattle's most experienced PADI 5 Star IDC Instructor Development Centers. We have been a PADI Five Star Instructor Development Center, training PADI Professionals, for more than 28 years!
Our Course Director & Staff
Our Course Director has been with TL Sea Diving since the beginning and has been teaching PADI Divers for 34 years and PADI Instructors for 27 years with a 99%+ success rate at the Instructor Examinations (IE). He is also certified to teach 20 of PADI's most popular and profitable specialty instructor courses.
Our IDC Staff Instructors have 17 years of combined experience helping divers reach their goals as PADI Instructors.
Get Started!
You can start today by contacting TL Sea Diving and scheduling an in-person meeting with our Course Director. Bring your questions! We will let you know what you will need (books and materials), talk with you about your experience and show you the path forward, including detailing all costs involved.